---
---
Celebrating Family Nudism For 71 Years!
Cedar Waters Village Nudist Park, Nottingham, NH
IMPORTANT - Cedar Waters Village is not accepting new members for the 2021 Summer Season. However, past and present Per Day Members ($42.00 per day) and Seasonal Day Members ($420.00 all Season), in good standing, are welcome to renew their Membership for Summer 2021, subject to all fees, rents, rules and regulations.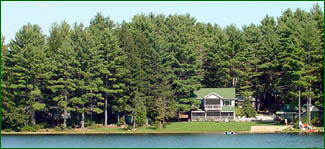 Summer enjoyment for the whole family!
Cedar Waters Village is the Northeast's largest private nudist park. Cedar Waters Village is comprised of a 20+ acre lake completely surrounded by over 350 acres of heavily wooded, private land with secluded roads and hiking trails. Founded in 1950 by Robert and Mary Bonser, Cedar Waters Village is also one of the oldest and most beautiful nudist parks in the country.
Cedar Waters Village is a private, gated, members only, seasonal vacation and summer comunity where the quiet privacy of the lake and park offers relaxing sandy beaches, lawns for sunbathing, swimming, sailing, windsurfing, tennis and other racquet sports, shuffleboard, horseshoes, petanque, wood fired sauna, hot showers, modern rest rooms; superb bass, pickerel, and horn pout fishing; camp row boats, paddle boats, and canoes; also overnight RV sites, seasonal RV lots, seasonal RV waterfront lots; water front rental cabins, church, cozy clubhouse with large screened porches; and lakeside restaurant to enjoy a leisurely Sunday morning breakfast.
---
Our Season
Our clubhouse, pictured here, is home to our many social activities during the season. It also is home to our lake view restaurant, where you can relax and enjoy a special weekend breakfast.

Re-newed Per Day Membership: $42.00 per day. 5% discount for check or cash:

**Cedar Waters Village is open 4 days a week for Per Day Members- Friday, Saturday, Sunday and Monday, May 22nd through September 15th. Open on the 4th of July.

Re-newed Seasonal Day Membership: $420.00 for the 2020 Season. 5% discount for check or cash:

** Cedar Waters Village is open 7 days a week with a Seasonal Day Membership plus Gate Pass Card, May 15th thru October 15th.

(** Cedar Waters Village is open for Members 7 days a week for overnight stays. Please see rate pages for rates and availability. Also, please see rate page for our May 15th thru October 15th Seasonal Members rental lots rates.)

What to Expect:

Our park lends itself to outdoor activities similar to any other campground.

We are a members only private family oriented nudist park, with activities for the whole family, from sports to just relaxing in the sun.

Please email in advance for reservations or questions: tmbonser@comcast.net

During the summer, there are weekend social activities for the entire family. When you call us, be sure to inquire about what will be going on at Cedar Waters Village during the summer season!
The Church in the Wildwood offers non-denominational Christian services every Sunday in season, at 10:00 AM.

Refreshment for the Spirit, Soul and Body.
---
---
---

NOTE: Cedar Waters Village is a private independently operated, privately owned nudist park and is not affiliated with the American Association for Nude Recreation (AANR), The Naturist Society (TNS), the International Naturists Association (INA), or any nudist/naturist organization.